Charter Flight Cost Estimator Tool
The following private jet charter flight estimator tool offers estimated instant private jet charter pricing for round trips, one ways, and multi-leg private flights. You can also choose the options at the bottom to view available empty legs and even add a customized empty leg monitor for a flight you are planning! 
**Please Note: Additional availability may not show in your search results. Please submit your request and one of our professional charter flight professionals will give personal attention to your flight search to offer you the most accommodating and cost-effective options for your itinerary.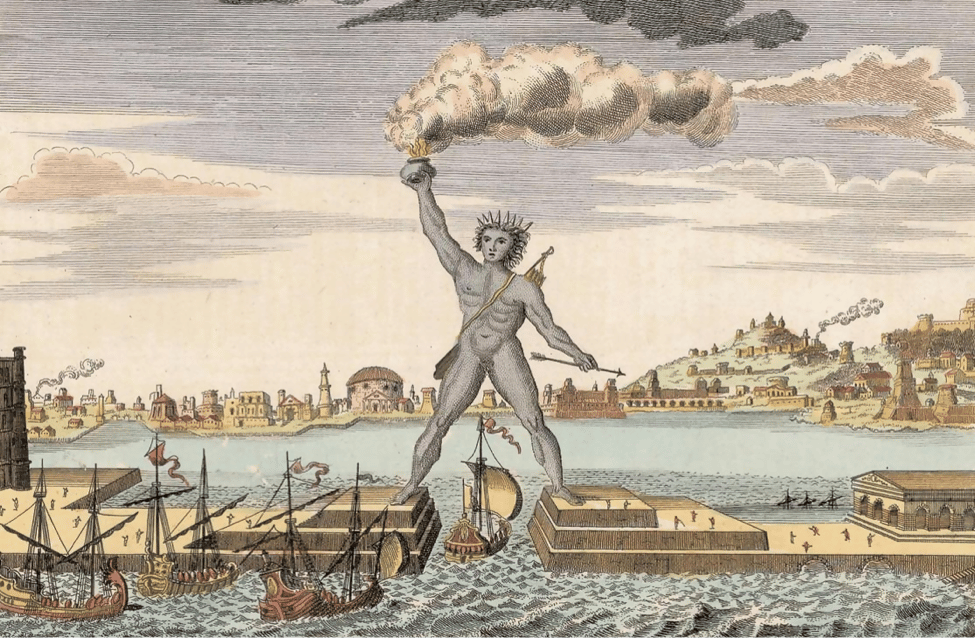 The Colossus of Rhodes is one of the Seven Wonders of the World that was built in ancient Greece back in 292 BC. This structure was truly massive, standing at an estimated 108 feet possibly over the Mandraki Harbour, this statue is the tallest that existed in the ancient world. The Colossus of Rhodes was created to honor the Greek god Helios, and as a token of appreciation for their assistance in overturning Demetrius Poliorcetes very lengthy ruling of Rhodes.
The Colossus of Rhodes stood for 54 years before it collapsed because of an earthquake. The remains were in the area for 800 years, and people still often came from all over to experience and see what this towering statue was once upon a time, even though it was in shambles. You can visit where this remarkable structure was once believed to have stood in Rhodes, Greece, and learn all about the history and significance that makes up this wonder of the world. This is a beautiful island that lies on the Aegean Sea, so there is plenty of beauty to be discovered in this entire city.
If you want one of the best experiences you can have when coming to experience where this wonder once stood, there are guided tours that can take you through the region and give you a briefing on the rich history behind the Colossus of Rhodes. Walking tours and driving tours are provided through multiple companies, so finding one that suits you should not be an issue.
Travel to Rhodes
If you are making your way to Rhodes, Greece, you will obviously want to do so in a large private jet with the range to take you get you there! This ensures that you will travel in the utmost comfort and have a relaxing trip from beginning to end. The easiest way to get to this region of Greece is to fly into Rhodes International Airport (IATA: RHO, ICAO: LGRP), also known as Diagoras International Airport, which is conveniently located only about 20 minutes from the site of Colossus of Rhodes and the surrounding town.
Where to Stay
When it comes to accommodations in Rhodes, there are several luxury options that are available for your ideal getaway. You can fall into total relaxation mode with a resort overlooking the vast sea and have all your needs completely taken care of.
Lindos Blu Luxury Hotel is a serene spot here in Rhodes that provides immaculate views of the Mediterranean Sea. You will have ample space to lounge out on one of the several pool decks and let your worries melt away. There is also a spa for a day that you completely want to unplug and reset after days of adventuring through Greece.
Next, the Boutique 5 Hotel & Spa is able to offer superbly comfortable rooms that have balconies with sweeping ocean views. There is an out-of-this-world spa facility, and delicious food awaiting the guests. This is an adults-only resort, so you can rest assured that there will be peace and quiet here.
Lastly, Casa Cook Rhodes is an absolute haven of a resort nestled in Rhodes. There is ample space to practice open-air yoga to really ground yourself before a busy day of exploring, and the cuisine here is to die for. Breathtaking views of the ocean and surrounding cliffs can be seen from Casa Cook Rhodes, and you can end your days taking a dip in the private pools in the veranda rooms.
Colossus of Rhodes is an outstanding aspect of history, and on top of the significance behind it, the island of Rhodes an extraordinary place to travel and experience in and of itself. You should not hesitate on exploring this Wonder of the World in luxury and style.
References:
http://www.rhodesprivatetours.com/colossus_of_rhodes_sightseeing.htm
https://www.rhodesguide.com/travelguide/colossus_rhodes.php