Charter Flight Cost Estimator Tool
The following private jet charter flight estimator tool offers estimated instant private jet charter pricing for round trips, one ways, and multi-leg private flights. You can also choose the options at the bottom to view available empty legs and even add a customized empty leg monitor for a flight you are planning! 
**Please Note: Additional availability may not show in your search results. Please submit your request and one of our professional charter flight professionals will give personal attention to your flight search to offer you the most accommodating and cost-effective options for your itinerary.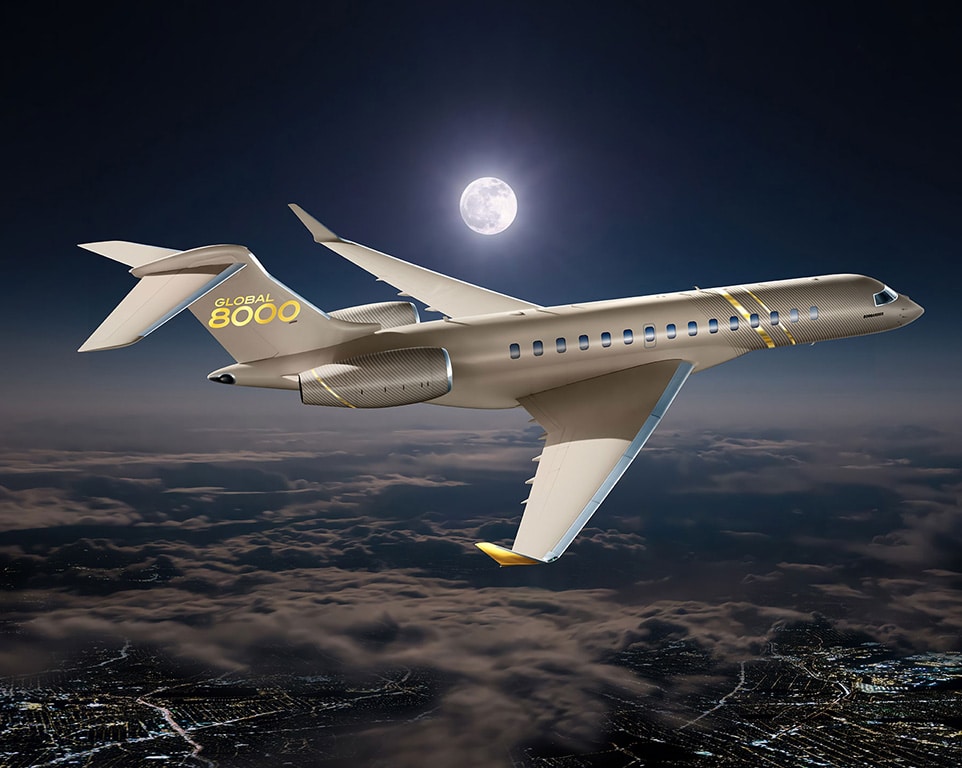 Bombardier, a Canadian aircraft manufacturer, is famed for their Bombardier Global series jets despite having produced a variety of aircraft over the years, including the narrow-body C-Series, which later evolved into the Airbus A220. What are the differences between the members of this family of private jets? Let's find out! 
Bombardier offers a total of six Global-series branded aircraft variants, which are divided into three sets of two according to their size. The first two models in the larger Global Express family are the 29.5-meter-long Global 5000 and 5500 variants, which make up the smallest pair. Both require a crew of three.
Largest of the Bombardier Global Series Jets: Bombardier Global 7500 and Bombardier Global 8000
Recent program developments have seen Bombardier introduce two stretched-fuselage Global variants, the 7500 and 8000. These measure 33.9 meters in length, 8.2 meters in height, and 31.7 meters in wing span. With a maximum passenger capacity of 19, these aircraft outperform their smaller competitors.
The 7500 and 8000, which accommodate up to four-person crews and are powered by General Electric Passport turbofans, have impressive long-range and high-speed capabilities. The former, which made its maiden flight in 2016 and entered service two years later, and has a maximum range of 7,700 NM (14,260 km) and a maximum speed of Mach 0.925. (709.7 mph). 
The Global 8000, which is expected to have a range of 8,000 NM (14,800 km), has yet to enter service. Indeed, the current estimation for its introduction is 2025. However, the aircraft has been conducting test flights, with one of these SAF-powered excursions resulting in a supersonic flight. The maximum speed listed for this variant of Bombardier's popular Global series is Mach 0.94. (721.2 mph).
Bombardier Global 7500 price is approximately $75 million
Bombardier Global 8000 price is expected to be $78 million
Mid-sizes of the Bombardier Global Series Jets: Bombardier Global 6000 and Bombardier Global 6500
The Bombardier Global 6000 and Global 6500 both measure 30.3 meters in length and require a four-person crew to operate. The former model has the same 13-passenger capacity as the 5000, while the latter model can carry 17 passengers, surpassing the 5500's capacity. All four previously mentioned variants have the same wing span (28.7 meters) and height (1.9 meters) (7.8 meters).
These aircraft have the same engines and maximum speed as the smaller variants, with the Global 6500 performing marginally better than the Global 6000 in this regard. However, their range distinguishes them from their short-fuselage counterparts. In fact, the Global 6000 can travel up to 6,000 NM (11,112 kilometers), while the Global 6500 can travel even further, with a range of 6,600 NM (12,223 km).
The Global 6000 and 6500 models are 0.80 meters longer than the Global 5000 and 5500 models.
Bombardier Global 6000 price is between $22 million for an older (2012) model and $64 million for a newer (2021) model
Bombardier Global 6500 price is between $56 million for a later model and $43 million for a 2019 model
The smaller of the Bombardier Global Series Jets: Bombardier Global 5000 and Bombardier Global 5500
Despite having the same length, the 5000 and the 5500 have different passenger capacities, with the 5500 able to accommodate three more passengers (16 vs 13). It also has a longer range (5,700 NM vs. 5,200 NM) and higher top speed (Mach 0.9 vs. Mach 0.89, or 690.5 mph vs. 682.9 mph).
For the latter advantage, the Global 5500 should credit its Rolls-Royce BR700-710D5-21 engines, which provide 15,125 lbf (67.3 kN) of thrust. This is slightly more thrust than the 5000's Rolls-Royce BR700-710A2-20 turbofans provide, which is 14,750 pounds (65.6 kN). Both locations have a maximum elevation of 51,000 feet.
The 5500 is the superior performer between the two short-fuselage Global series variants.
Bombardier Global 5000 price new is about $50 million.
Bombardier Global 5500 price new is about $47 million.
Honorable Mention of the Bombardier Global Series Jets: Bombardier Global Express
Bombardier Global Express Price to purchase starts around $10 million. The average hourly rental rate to charter a Global Express is around $10,500 per hour.
What Jets do Bombardier Make?
Challenger Series: Challenger 300, Challenger 350, Challenger 600, Challenger 601, Challenger 604, Challenger 605 Challenger 650, and Challenger 850.
Global Series: Global Express, Global Express XRS, Global 5000, Global 5500, Global 6000, Global 6500, Global 7500, Global 8000
Learjet Series: Learjet 35 (production ended 1994), Learjet 40 (production ended 2013), Learjet 45 (production ended 2012), Learjet 55 (production ended 1987), Learjet 60 (production ended 2012) , Learjet 70 (production ended 2021), Learjet 75 (production ended 2021), and Learjet 85 (cancelled after two prototypes).
Many of the following are also out of production; however, are Bombardier Aircraft: Dash 8 Series 400, CRJ 100, CRJ 200, CRJ 440, CRJ 550, CRJ 700, CRJ 705, CRJ 900, CRJ 1000, Bombardier 415 (amphibious), C Series (Airbus A220),
What is the best Bombardier Jet?
Our favorite Bombardier jets include both the Challenger series and the Global series. Both are great series of aircraft with one of our favorite attributes being the wider body, as it feels more spacious than many of the longer, narrower competitors such as Gulfstream.
Which Jets Compete with Bombardier Global Models?
The biggest competitor for Bombardier Global Series Jets are Gulfstream jets; mainly, Gulfstream G650.
How much Does a Bombardier Global Jet Cost?
The Bombardier Global 7500 costs $75 million new and the Bombardier Global 8000 is expected to cost $80 million new.